---
Super Clear Laminated Thick PVC Sheet
Extra thick PVC sheeting helps you protect the surface while maintaining transparency and surface flexibility. It could be used in temperature or dust control. It can be used in both indoor and outdoor from cutting pad, door blinds to yacht cover use on the tent.
Shih-Kuen adopts 6 layers lamination process to secure durability.

Laminiated sheets include 1mm PVC Sheets, 2mm PVC sheets and 3mm PVC sheets. You could requests speicific thickness from 0.6mm upto to 3mm, and order width per roll from 30 inch -72 inch.

The entire process of Super Clear PVC vinyl sheets is produced in house for the complete quality control. Our clear plastic sheets are qualified of EN71-Part III: Migration of Certain Elements. It's also available to tailor made material for REACH, RoHS, or Non-Phthalates standards.


Shih-Kuen Plastic locates nearby Taiwan Highway, about 5 minutes drive to Ma-Tou Highway entrance and 1-hour drive to Kaohsiung Port.


Customize flexible PVC sheeting to your choice of color tint, width, thickness, hardness to special requests. Please note the color of sheetings can be varied in different thickness and embossing styles. We'd strongly suggest to send us an A4 size sample for color matching.
Heavy Duty Clear PVC Plastic Sheetings are available in 1mm, 2mm, 3mm thickness
ISO 140001, ISO 9001 D&B and TÜV Rheinland Certified Manufacturer
With over 30 years of experience in plastic vinyl industry, we have a group of industry experts, experienced sales and production team to help you finding the matching plastic material for your applications.
PVC Sheet Features
Customize thickness up to 3mm.
Premium Transparency.
High Gloss.
Satisfy High Cosmetic Standard.
Level up Product Finished Look.
Easy Processing.
Enhance material properties with versatile options.
Processing Methods
High-Frequency Welding.
Ultra-Sonic Welding.
Printing.
Adding Adhesive.
Hot Stamping etc.
Specification
| | |
| --- | --- |
| Material | Polyvinyl Chloride aka PVC or Vinyl |
| Color | Transparent Clear or Transparent Colored |
| Finish | Double Polish |
| Thickness (Gauge) | 0.60mm - 3.0mm |
| Package | Rolls, Wrap in sponge and opaque plastics PVC sheet for extra protection. Check other packaging options here. |
| Width per Roll | 30" - 72" inch (30" - 60" for the highest quality) |
| Weight per Roll | 25 kg + |
| Hardness | 35 - 55 phr |
| Recycling | #3 |
| Test-Compliance: | EN71 |
| Optional Qualification | REACH, RoHS, Non-Phthalates (Phthalates Free), CPSIA, CHCC, etc. |
| Custom Additives | Anti-UV, Anti-Mold or Anti-Mildew, Low Toxic, Cold Crack, Fire Retardant, Anti-Static, etc. |
*phr (aka parts per hundred resin) indicates the amount of plasticizer added to the material. The higher the phr, the softer and more flexible.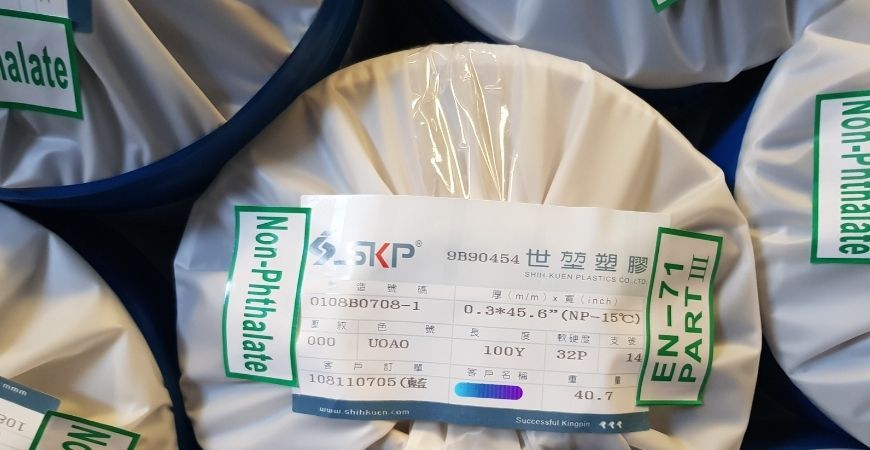 PVC Applications
Desk Cover, Cutting Pad, and Floor Protector.
School or Office Supplies.
Packaging Material.
Outdoor Blinds, Tents, Windows or Tarpaulin.
Packing PVC Sheet Rolls
We offer following packaing options for your PVC sheet rools:

Standard Packaging: Wrap with Opaque PVC Sheets
Sponge +Opaque PVC sheet
Cartons
Craft Paper
Pallets
Pallets with Cartons
Pallets with Craft Paper
Pallets with Concaves
Vertical Pallets
Wooden Box
Suspended Wooden Box
For other special packaging not mentioned above, please contact our sales team.
PVC Sheet Applications

About SKP

Related Products

---

With excellent transparency and clarity, Super Clear PVC sheets can be used in protective covers, curtains and bags to ensure excellent visibility and polished looks. Shih-Kuen Plastics adapts special treatment to strengthen the crystal-clear finish. The entire process of Super Clear PVC vinyl sheets is produced in house for complete quality control. Our clear plastic sheets are qualified of EN71-Part III: Migration of Certain Elements and are also available to tailor made material for REACH, RoHS, or Non-Phthalates standards.Customize flexible PVC sheeting to your choice of color tint, width, thickness, hardness to special material requests. PVC Sheets are packaged in rolls and ready to proceed various processing methods at your sides.

---

---

Product Brochure

---

Learn how flexible PVC sheets is the desirable waterproof material for your next applications.

---

---