---
Semi-Rigid Textured PVC Sheet
Semi-rigid PVC sheets possess advantages of both flexible PVC and rigid PVC sheets. Comparing with flexible type, Semi-rigid PVC sheets has more industrial applications because of harder texture. It is the common material for construction, vinyl flooring, advertising banner and protective films applications. While rigid PVC sheet could not adjust hardness, you could adjust the hardness of semi-rigid PVC between 10 to 26 phr; the hardness of flexible PVC sheet is 27 - 50 phr. PHR stands for parts per hundred resins, indicating the amount of plasticizer used in 100g of PVC resins. The larger phr would have more plasticizer that result in softer touch.


Shih-Kuen Plastics is dedicated to provide quality and safe PVC sheets to you. All our material complies with EN71 Part III: Migration of Certain Elements Standards, and it is also available to meet REACH, CPSIA, SVHS or other safety standard. To help customers enhance their processing efficiency and material utilization, our PVC sheet rolls are tailor made to meet your specifications.


The color of plastics sheeting could be affected by textures and thickness. Please kindly provide the A4 size sample for color matching.
ISO 140001, ISO 9001 D&B and TÜV Rheinland Certified Manufacturer
With over 30 years of experience in plastic vinyl industry, we have a group of experienced sales, R&D and production team to help you find the mating material for your applications.
PVC Sheet Features
Hardness between flexible and rigid PVC sheets.
Custom Colors (Thickness, textures and opacity would affect color of sheeting).
Can be fabricated in versatile processing methods.
Apply in industrial solutions.
Processing Methods
Printing.
Adding Adhesive.
Vacuum Forming.
Laminating.
Specification
| | |
| --- | --- |
| Material | Polyvinyl Chloride aka PVC or Vinyl |
| Color | Custom Color in Translucent or Opaque Opacity |
| Finish | Textured, Frosted, Embossing or Matte |
| Thickness (Gauge) | 0.07 - 0.3 mm |
| Package | Rolls, Wrap in opaque PVC sheet. Check other packaging options here. |
| Width per Roll | 30" - 62" inch |
| Weight per Roll | 100 kg + |
| Hardness | 10 - 26 phr* |
| Recycling | #3 |
| Test-Compliance: | EN71 |
| Optional Qualification | REACH, RoHS, Non-Phthalates (Phthalates Free), CPSIA, CHCC, etc. |
| Custom Additives | Anti-UV,  Anti-Mold or Anti-Mildew, Low Toxic, Cold Crack, Fire Retardant, Anti-Static, etc. |
*phr (aka parts per hundred resin) indicates the amount of plasticizer added to the material. The higher the phr, the softer and more flexible.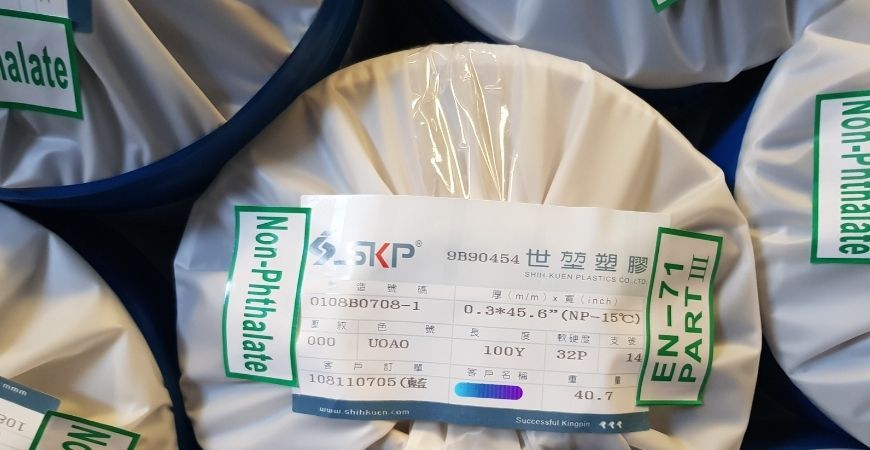 PVC Applications
Construction Appliance.
Vinyl Flooring (Wear Layers, Decorative Print Layers).
Vinyl (outdoor) Banners, Cut Vinyl Graphics, Stickers, Label.
Photo Protective Film and Window Decal.
Packing PVC Sheet Rolls
We offer following packaing options for your PVC sheet rools:

Standard Packaging: Wrap with Opaque PVC Sheets
Sponge +Opaque PVC sheet
Cartons
Craft Paper
Pallets
Pallets with Cartons
Pallets with Craft Paper
Pallets with Concaves
Vertical Pallets
Wooden Box
Suspended Wooden Box
For other special packaging not mentioned above, please contact our sales team.
PVC Sheet Applications

About SKP

Product Brochure

---

Learn how flexible PVC sheets is the desirable waterproof material for your next applications.

---

---