---
Normal Clear PVC Sheet
PVC sheets are the common material used in household items, stationery, general purpose goods, covers, etc.
Due to the nature of the plastic sheeting, the surface is sticky. It's optional to add power between layers to improve workability. The entire process of Normal Clear PVC vinyl sheets is produced in house to ensure product quality. Clear plastic sheets produced by Shih-Kuen Plastics are qualified of EN71-Part III: Migration of Certain Elements. It's also available to tailor material fulfilling REACH, RoHS, or Non-Phthalates standards.


The key advantage of flexible PVC sheets is the ability to adjust hardness. We use phr (a.k.a parts per hundreds resins, plasticizer per hundreds ratio) to indicate hardness. If you're unsure about the material specifications, please kindly send us samples for material analysis.


Flexible PVC sheeting is easy to fabricate in a wide range of fabrication options. All plastic sheets are packed in rolls and it's ready for the secondary processing.


Customize flexible PVC sheeting to your choice of color tint, width, thickness, to special requests.
Clear PVC Sheet Rolls
ISO 140001, ISO 9001 D&B and TÜV Rheinland Certified Manufacturer
We recruit a group of passionate experts in R&D, production team, and sales department. It's our honor to serve clients over 50 countries with competitive and quality flexible PVC sheets. Feel free to contact us if you have any question regarding PVC Sheets.
PVC Sheet Features
Transparent Clear Color.
Durable and waterproof material.
Great for disposable cover, inner lining.
Easy to process.
Processing Methods
High-Frequency Welding,
Sewing,
Printing,
Adding Adhesive,
Hot Stamping,
Laminating, etc.
Specification
Material
Polyvinyl Chloride aka PVC or Vinyl
Color
Transparent
Grade
Normal Clear
Finish
Double Polish, Glossy Finish
Thickness (Gauge)
Normal Clear 0.05 - 0.5 mm
Super Clear 0.15 - 0.5 mm
Package
Rolls, Wrap in opaque plastics PVC sheet. Check other packaging options here.
Width per Roll
30" - 72" inch
Weight per Roll
25 kg +
Hardness
27 - 55 phr*
Recycling
#3
Test-Compliance:
EN71
Optional Qualification
REACH, RoHS, Non-Phthalates (Phthalates Free), CPSIA, CHCC, etc.
Custom Additives
Anti-UV, Anti-Mold or Anti-Mildew, Low Toxic, Cold Crack, Fire Retardant, Anti-Static**, etc.
*phr (aka parts per hundred resin) indicates the amount of plasticizer added to the material. The higher the phr, the softer and more flexible.
**Only Nomal Clear without powder on surface could apply Aniti-Static additives.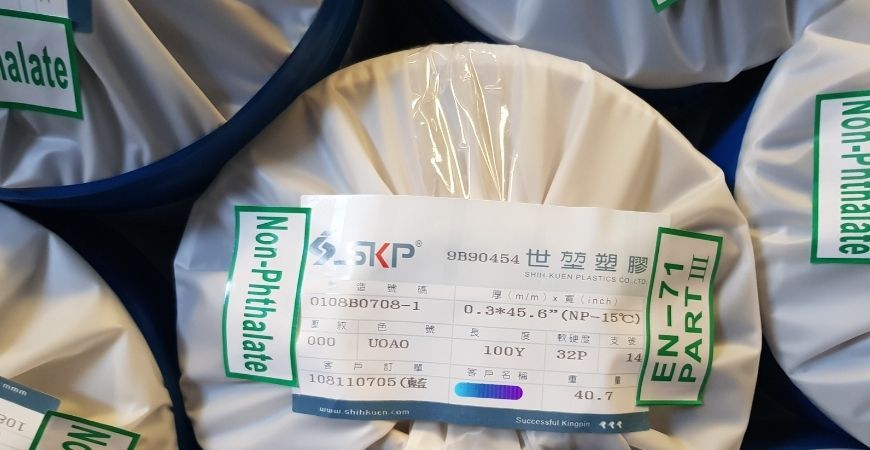 PVC Applications
Stationery Material (eg. Folder, Book Cover).
Packaging and Bags.
Waterproof Rainwear.
Inflatables, Toys and Ice Packs.
Tarpaulin.
Packing PVC Sheet Rolls
We offer following packaing options for your PVC sheet rools:

Standard Packaging: Wrap with Opaque PVC Sheets
Sponge +Opaque PVC sheet
Cartons
Craft Paper
Pallets
Pallets with Cartons
Pallets with Craft Paper
Pallets with Concaves
Vertical Pallets
Wooden Box
Suspended Wooden Box
For other special packaging not mentioned above, please contact our sales team.
PVC Sheet Applications

About SKP

Related Products

---

With excellent transparency and clarity, Super Clear PVC sheets can be used in protective covers, curtains and bags to ensure excellent visibility and polished looks. Shih-Kuen Plastics adapts special treatment to strengthen the crystal-clear finish. The entire process of Super Clear PVC vinyl sheets is produced in house for complete quality control. Our clear plastic sheets are qualified of EN71-Part III: Migration of Certain Elements and are also available to tailor made material for REACH, RoHS, or Non-Phthalates standards.Customize flexible PVC sheeting to your choice of color tint, width, thickness, hardness to special material requests. PVC Sheets are packaged in rolls and ready to proceed various processing methods at your sides.

---

---

Transparent Colored PVC Sheets has double polished surface (front and back sides). Although plastic sheeting is colored, it sill remains the see-through and glossy effects. SKP's colored plastic sheets are custom color and provide color matching services. Transparent Color sheeting is available in two transparency grades, Normal Clear and Super Clear PVC.Depending on your application needs, Super Clear grade has glossier and crystal-clear finish, but the surface will be stickier than the Normal Clear grade. For easier processing, you may consider Normal Clear grade but with lower transparency. Dusting powder on top of the sheeting could improve processing but would decrease material transparency; If you are uncertain about material selection, please contact our sales team so our sales team could assist your inquiry.PVC compounds are one of economical material for various applications from household items, stationery, general purpose goods, covers, etc.Colors of PVC sheet rolls are custom made helping customers to find the matching colors. Please note colors could be affected by thickness, textured and opacity; for better color accuracy, please provide A4-size sample.We understand the safety of plastic sheet is the top priority. From material to processing, we strictly control our production to ensure all material are qualified by EN71-Part III. PVC sheets could also made to comply with other tests namely REACH, CPSIA, CHCC, ASTM F963, etc.

---

---

Product Brochure

---

Learn how flexible PVC sheets is the desirable waterproof material for your next applications.

---

---