How We Quote
Learn how we prepare your quotation step by step
We are surrounded by PVC sheets applications from the transparent desk cover in schools to printed PVC wooden floor we stepped on. PVC sheets are popular solution to replace limited natural resources and supported growing demands. The applications of PVC sheets varied from processing methods, user groups to selling markets, thus it's important to go through details thoroughly. Our RD team will present the ultimate PVC sheet solutions for your order.

For customers ordered PVC sheet from other suppliers, please kindly send us the samples to check the hardness and thickness. Due to the difference in the material and formula, PVC sheet specification will be different among suppliers.

Every PVC sheet order is different and will quote accordingly to your specific needs.
We will prepare the quotation with the following information following the steps.
What we need in the quotation
Thickness (mm)
Hardness (phr)
Width per Roll
Length per Roll
Special Safety Standards: REACH, RoHS, Non-Phthalates, etc.
Quotation Basis: in kilogram, in meter, in yard, etc.
Order Quantity
Incoterm: FOB/ Kaohsiung, Taiwan or CIF/ Your Designated Port.
Packaging: Standard packaging comes with opaque PVC sheets, please visit How We Pack PVC page to learn other options.
Quotation Checklist
Our quotations are based on your specification.
Followings are the checklist helping you understand how we prepare the quotations.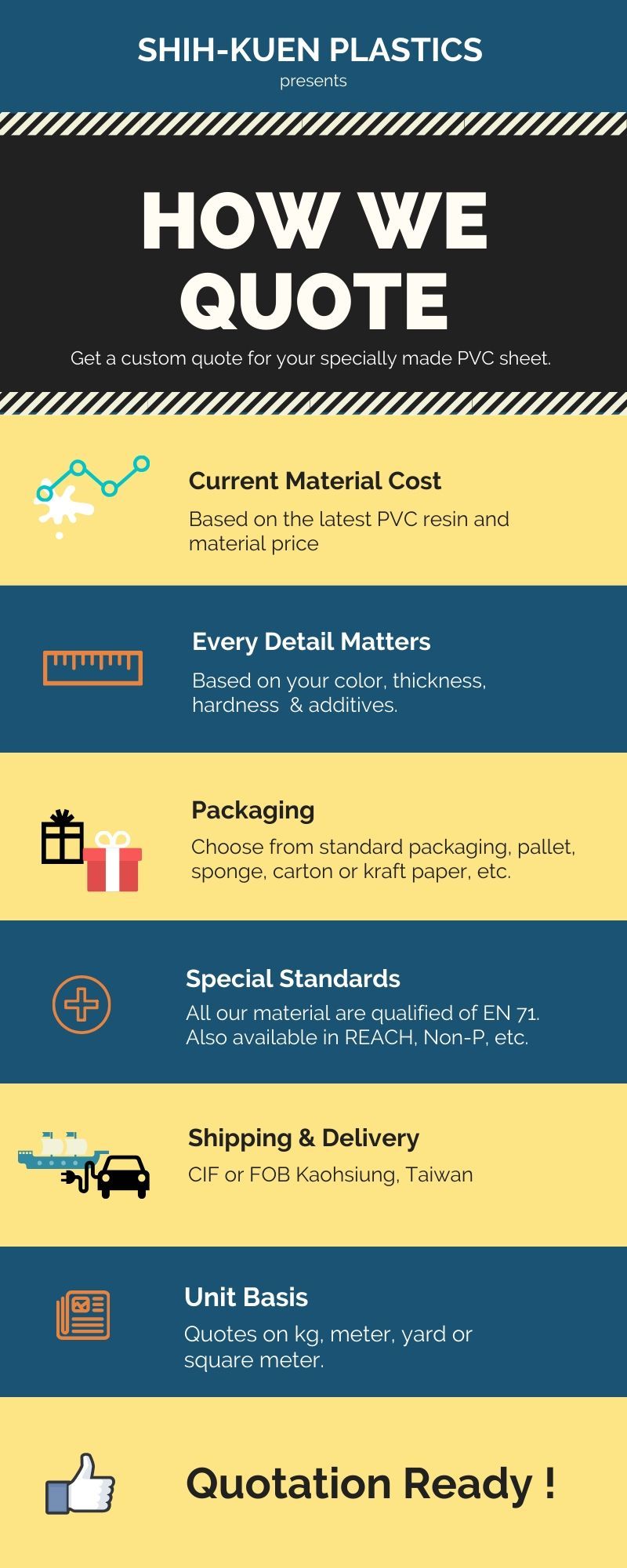 Special standards and packaging will be charged differently. Please contact our sales team for more information.
From Proforma Invoice to Commercial Invoice
In the proforma invoice, you will find complete information of PVC sheet specification, standards, lead time, payment term and shipping. Once we receive the sign-back PI to confirm order details, we will input your orders in our system to schedule the production.
In our order system, we record all the details breaking down to each item that will speed up the ordering process for your next repeated inquiry.
Once we complete delivery, you will receive draft of commercial invoice and packing list. This will help you to track the final order quantity and balance before custom clearing. We make sure you fully monitor your order and shipment process until your container arrived to your destination.