How We Pack PVC
Tailor PVC Sheet Inside Out - Learn more about versatile PVC sheet packaing options
Shih Kuen Plastics SKP does not have standard PVC Sheet solutions for all. Every PVC sheet is handled differently from hardness, thickness, width to packaging, your orders will be tailored to your specific applications needs and regulations in your target markets.

Our PVC sheets are packaged and delivered to your door in rolls. While material specifications are important, PVC sheets packaging shall also be discussed in details to make sure our products are delivered as you expect.

The standard and most common PVC sheet packaging is wrapping around with opaque PVC sheets to protect PVC sheets from the scratch during delivery. Every PVC Roll will be attached a shipping mark, helping customers to check order details and quantity.
Every shipping mark will show the following information:
● Customer Name:
● Product Name:
● Specification: Thickness × Yard × Hardness
● R/ No (Roll Number)
● Made in Taiwan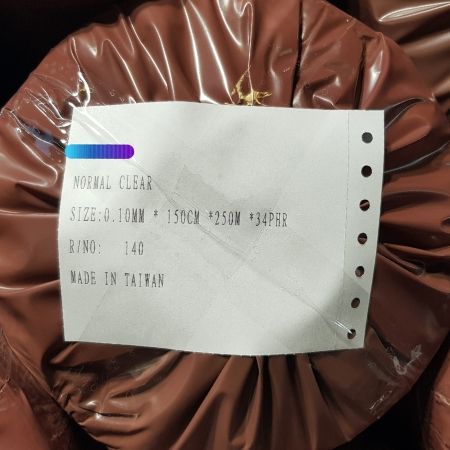 Standard Shipping Mark for Export
Shipping marks will directly impact how customer manage inventory and stock management. If there are two items in same specifications (thickness × width ×yard) but with different additives, we could attach additional stickers ( for example: Anti-UV, or Fire Retardant) to differentiate the orders. For other orders in special safety standards, we could also add labels of EN71, REACH, Non-Phthalates on the packaging.
How We Pack PVC Sheets
PVC sheets packing option shall also be considered when you order. Our basic packaging comes with opaque PVC sheets which is the most economical options. This is the lightest in weight and will take more advantage on loading space. Because of the simple packaging, this will spend the least of time to unpack PVC sheets rolls and could directly proceed in the operation.
If you'd sell PVC sheet rolls directly without processing, you may consider using cartons or pallets to have a better protection on PVC sheet rolls.
Shipping conditions and duration shall also another importannt factors when you decide the packaging. For full container orders, PVC sheets could use all packaging alternatives listed below; however, for less-than-container (LCL) orders, PVC sheet rolls are required to stack on the pallet. This will secure PVC sheet rolls safely on pellets during shipment, and provide convenience to load and unload products using the lifters. You could select craft paper, cartons, concaves, or vertical stacking options with pallets.
Too many selections? Our sales teams would guide you to choose the best packaging selection based on your requests.
PVC Sheet Packaging Options Available:

Standard Packaging: Wrap with Opaque PVC Sheets
Sponge +Opaque PVC sheet
Cartons
Craft Paper
Pallets
Pallets with Cartons
Pallets with Craft Paper
Pallets with Concaves
Vertical Pallets
Wooden Box
Suspended Wooden Box
How We Load on Containers
Our plant has over 300,000 square feet which has ample space to safely stock all the materials before shipment. Shih-Kuen Plastics has designated loading decks accommodating multiple 20" and 40" containers together. We are only 5-mimute-drive to the Taiwan Freeway #1 making the great location benefits and easy access locations.
Before and after loading, we will use the on-site weighting system to confirm the weight of empty and full container. This will ensure total product weights are same as the packing lists before export. Once we complete loadings, we will provide official shipping document with the finalized quantity and balance. We make sure you obtain the latest production status.